Not long ago, the University of Oregon was hardly a destination for top recruits. That all changed when Nike co-founder Phil Knight and Tinker Hatfield, designer of the Air Jordan sneaker, created a new look for the Ducks.
Since the Oregon alums teamed up in 1999, the Ducks have created thousands of unique looks and have rarely worn the same thing twice. While many purists argue that Oregon's look is a gimmick, the school has clearly created a brand. With the Ducks success on the field and in the recruiting trails, there was bound to be copiers. We just didn't imagine that almost every team in the country would follow suit.
With 125 teams in the Football Bowl Subdivision (FBS), it can be difficult for viewers to keep track of all the changes going on across the country. However, fear not as Land-Grant Holy Land has compiled a list of the latest changes in our weekly update.
AAC
Rutgers
Rutgers will wear their black uniforms tomorrow against Arkansas. pic.twitter.com/qZfkoy8pW1

— Phil Hecken (@PhilHecken) September 20, 2013
The Scarlet Knights wore their black uniforms for the first time this season in a come from behind victory over Arkansas.
ACC
Georgia Tech
The Yellow Jackets wore throwback uniforms and solid gold helmets to celebrate 100 years of Grant Field at Bobby Dodd Stadium on Thursday night. While it seemed there were inconsistencies in the sleeve striping from player to player, it has been noted that back in the day, stripes were often different depending on the position you played.
Maryland
Like Oregon, Maryland has benefited from an alum who founded an apparel company. Kevin Plank, owner of Baltimore-based Under Armour, outfitted the Terrapins in the latest version of their State Pride Uniforms. Unlike past renditions, these helmets were individually hand painted:
September 19, 2013
North Carolina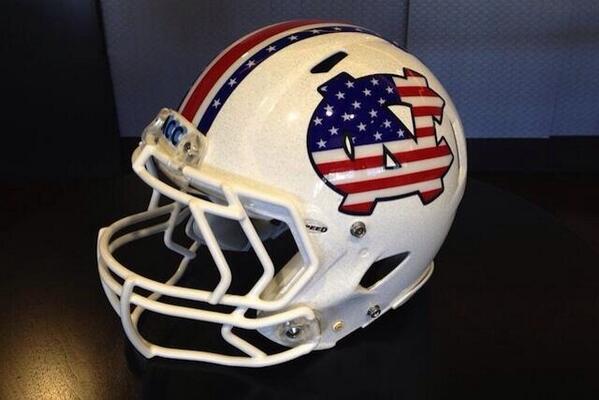 For their annual Military Appreciation Game, the Tar Heels will wear a patriotic helmet and have painted their endzones with a stars and stripes motif: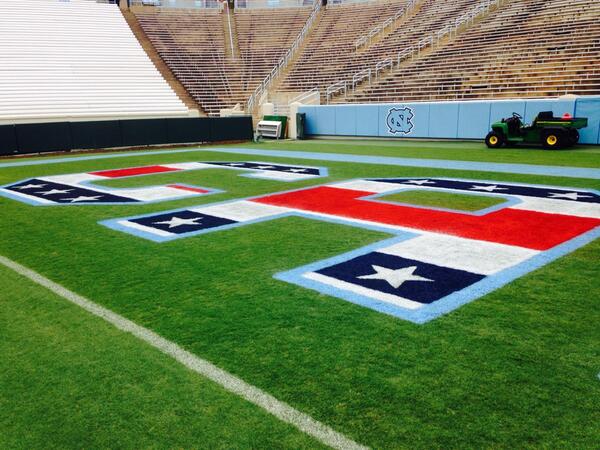 Syracuse
The Orange paid homage to San Diego State by wearing a helmet which faded from blue to orange (orange to blue, if you please) against Tulane:
Virginia Tech
Between the gray jerseys in the Chick-fil-A Kickoff and the camo uniform against Marshall, the Hokies seem to have no clue what they're doing aesthetically this season. Thursday night only furthered that assumption when the team wore the "Hokie Stone" helmet, a nod to the stone that's featured in every building on campus:
Big XII
Texas
While the NFL devotes a whole month to Breast Cancer Awareness by wearing pink accessories, some colleges take it upon themselves to honor those in the fight against cancer. The Longhorns wore colored ribbons on their helmets (pink for breast cancer, yellow for testicular cancer, or purple for any other form of cancer) and accessories of the same color in a win over Kansas State.
West Virginia
The Mountaineers will wear their all gold uniforms against Oklahoma State:
WVU Mountaineers going gold/gold/gold Saturday vs. OK State. pic.twitter.com/un0nuCyZHZ

— Phil Hecken (@PhilHecken) September 26, 2013
Big Ten
Indiana
Wearing their third helmet in four games, the Hoosiers wore their candy-striped helmets again, this time in a loss to Missouri. The team has already worn the state flag helmet, as well as their standard Block "I".
Wisconsin
Barely noticeable, the Badgers slightly altered the Flying W on their helmets to better match the color of their jersey.
Ohio State
The Buckeyes will be wearing Nike Rivalry uniforms, very similar to those worn last season against Michigan, this Saturday night. Last weekend, the Buckeyes honored Ohio State student Maria Tiberi, who died in a car crash earlier in the week, by wearing MT decals on their helmets.
Pac-12
Arizona State
Known as #MaroonMonsoon, Arizona State will be wearing their all maroon uniforms against USC. Two seasons ago, the Sun Devils wore this combination in a 43-22 thrashing of the Trojans:
Cal
Those who hate teams wearing non-school colors need to skip over this matchup. The Golden Bears will be wearing their standard blue helmets with gray jerseys against Oregon.
Oregon
While it's not completely out of the question that the Ducks wear a helmet feature the school mascot, Puddles, this helmet making it's rounds is only a mini helmet concept:
Washington
When Arizona walks into Husky Stadium, they'll be blinded by these chrome helmets the Huskies will be wearing.
SEC
Alabama
Like Ohio State fans, the Crimson Tide faithful have been up in arms about a blackout jersey that has shown up in team shops. In both cases, the black jersey is only a Nike Drench fashion jersey.
LSU
To honor legendary head coach Paul Dietzel, the Bayou Bengals will wear a PD helmet decal on for the remainder of the season. Dietzel, who recently passed away, led LSU to the 1958 National Championship.
The @lsufball team will honor the late Paul Dietzel tomorrow w a "PD" decal on the back of its helmet. pic.twitter.com/aJ1NqYjqs2

— Michael Bonnette (@LSUBonnette) September 27, 2013
Missouri
The Tigers wore a black helmet with a chrome tiger logo against Indiana. Without colored TV's, fans would have seen this helmet before when Mizzou has worn their alternate uniforms.
South Carolina
The Gamecocks will pair their white helmets and jerseys with garnet pants against UCF.
Texas A&M
The only away uniform associated with the Aggies is the stormtrooper look they wore in their win over Alabama last season, but they'll wear maroon helmets and pants against Arkansas.
Conference USA
Tulsa
If nobody saw the Golden Hurricane wear chrome helmets on Thursday night, did it really happen?
And here is Tulsa's chrome helmet. pic.twitter.com/B9xh8VD9dw

— Cork Gaines (@CorkGaines) September 27, 2013
Louisiana Tech
A fairly common occurrence when playing a team from one of the armed forces, the Bulldogs will wear a patriotic helmet logo when welcoming Army.
Independent
BYU
After a period of questionable decisions, the Cougars have thankfully returned to their traditional look. When taking on in-state rival Utah, BYU wore beautiful royal blue jerseys with a reflective helmet logo.
MAC
Central Michigan
The Chippewas honored the infant days of #MACtion with their 1941-inspired throwback jerseys against Toledo.
Miami (OH)
This summer, college football fans gasped in horror at the sight of the bowling ball inspired helmet the Redhawks released. However, their look is much more tolerable when paired with their normal helmets.
Western Michigan
In a season full of honorable gestures, Western Michigan will follow suit by wearing a decal for fallen Cincinnati lineman Ben Flick. The best part: The Broncos and Bearcats don't play this week, or at all this season.
Mountain West
Boise State
Black helmets, gray jerseys, black pants and blue turf. Makes sense...
Colorado State
For the rest of the season, the Rams will wear helmet decals to honor the victims of the flood that is ravishing Colorado. Against UTEP, Colorado State will wear orange uniforms as a nod to the the Colorado A&M Aggies, the school's original name:
Photo of helmet decal #CSURams will wear vs. Alabama for victims of Colorado flooding. http://t.co/83jkeeIVFJ pic.twitter.com/SDOCxRzMKx

— Ben Culpepper (@bculpe) September 21, 2013
Wyoming
The Cowboys are going to wear white uniforms with white pants and a gold stripe down white helmets in their game this weekend against relatively new FBS side, Texas State:
Wyoming will wear white shirts, white pants, white helmet w/ gold stripe down front vs. Texas State. #gowyo pic.twitter.com/kB9nwUF1kB

— Mike Vorel (@mikevorel) September 23, 2013